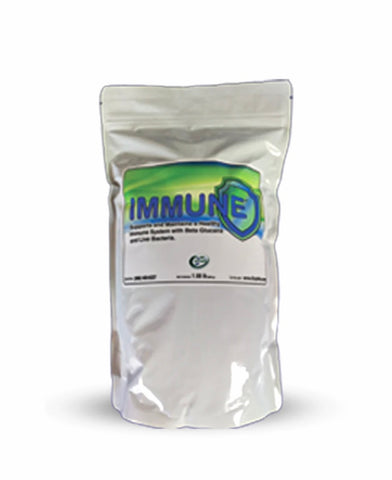 OxyGen ImmunEQ
Immune EQ™ horse supplement supports and maintains a healthy immune system with beta glucans and live bacteria for a healthy gut. 
It provides a proprietary blend of herbs and potent antioxidants to help protect cellular health and fight free radicals which support a normal detoxification process.
Available in pellet (30 or 90 day supply). 


Active Ingredients per 1/2 oz:
Proprietary GI Blend — 6190 mg
(Echinacea Herb Powder, Flax Seed, Grape Seed Extract, Turmeric Root Powder)
Proprietary GI Blend — 4030 mg
(Hydrolyzed Yeast, Octacosanol, Vitamin E)
Inactive Ingredients:
Alfalfa Meal, Corn Oil, Soybean Meal
Echinacea - This native herb found east of the Rocky Mountains helps to stimulate an immune response. It is widely used across the world for humans and animals to fight off infections. It can also help decrease inflammation which might reduce the severity of the symptoms. Echinacea is most commonly used for digestive and respiratory problems.
Grape Seed Extract (GSE) - helps to fight off free radicals in the body that may cause bacterial or viral infections. It supports the removal of any unhealthy pathogens or compounds that may damage a healthy immune system. GSE also has antibacterial properties and supports healthy blood flow.
Octacosanol - used to improve exercise performance including strength, stamina, and reaction time.
The active ingredient in Turmeric is Curcumin, which regulates the activity of protein-nuclear factor Kappa B. Kappa B controls the activity of genes regulating inflammation. Turmeric has strong anti inflammatory properties which modulate a number of proteins and pathways that support inflammation. Turmeric can also serve as an alternative to steroids, influences bone health, and is a natural anti microbial agent. 
Vitamin E - Is a fat-soluble vitamin, which plays a role as the #1 antioxidant & immune booster in the body. It also helps to prevent free radical damage to specific fats in the body that are critical for health and is an important vitamin that is required for the proper function of many organs in the body. In addition to being an antioxidant, Vitamin E is a "potent anti-inflammatory when given in high levels," according to a University of Florida study. Your horse does not make Vitamin E. Daily outside sources of Vitamin E are required to maintain the right blood and tissue levels to help protect cells. Nerve tissue especially requires Vitamin E to function properly. Administer 1/2 oz per day.
Cautions:
Safe use in pregnant animals or animals intended for breeding has not been proven. If lameness worsens, discontinue use and contact your veterinarian. Administer during or after the animal has eaten to reduce incidence of gastrointestinal upset.
For animal use only.
Keep out of the reach of children and animals. In case of accidental overdose, contact a health professional immediately.
This product should not be given to animals intended for human consumption.
---
We Also Recommend