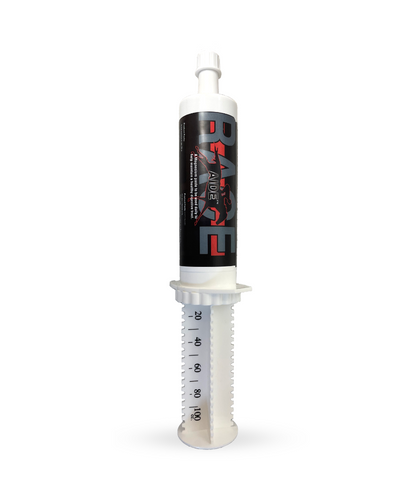 OxyGen Race Aide
$ 10000

$ 100.00

Save $ 0
---
---
RACE AIDE™ paste is recommended to be used for racehorses as a digestive aid to support the protective layers of the bowel and maintain proper gut flora and pH.
100 cc tube (5 doses)
*** Select the 3 pack to save $50! ***

Active Ingredients per 20 cc:
Proprietary Blend — 4595 mg
     (Actigen, Inulin, Vitamin E, Wheat Germ Meal)
Magnesium Sulfate — 2935 mg
Inactive Ingredients:
Propionic Acid, Salt, Soy Oil, Spearmint Oil 
Learn More:
Actigen - A natural means of maintaining gut health and integrity to support overall performance. ACTIGEN is a safe technology developed through nutrigenomics that helps animals thrive and reach their genetic potential. Gut health is essential for building a foundation for performance. Each element of the GI tract must function at its fullest capability in order for the animal to perform at its peak.
Inulin - A naturally occurring carbohydrate that is a form of soluble fiber. As inulin moves through the intestines, it also acts as a prebiotic essentially feeding all that good bacteria in the gut and helping it to grow. That means better digestion and a stronger immune system. It also helps improve the health of the gut by increasing the amount of beneficial bacteria in the colon.
Magnesium Hydroxide - Used as an antacid to neutralize stomach acid and also as a laxative. In some cases, it us prescribed to help relieve mild colic.
Octacosanol - Used to improve exercise performance including strength, stamina, and reaction time.
Soybean Oil - Classified as a vegetable oil it contains the good unsaturated fats with omega 3 essential fatty acids and vitamin E. The omega-3 essential fatty acids balance out the omega-6 your horse gets from other food sources.
Vitamin E - Is a fat-soluble vitamin, which plays a role as the #1 antioxidant & immune booster in the body. It also helps to prevent free radical damage to specific fats in the body that are critical for health and is an important vitamin that is required for the proper function of many organs in the body. In addition to being an antioxidant, Vitamin E is a "potent anti-inflammatory when given in high levels," according to a University of Florida study.  Your horse does not make Vitamin E. Daily outside sources of Vitamin E are required to maintain the right blood and tissue levels to help protect cells. Nerve tissue especially requires Vitamin E to function properly. Horses quickly get deficient if they engage in moderate to high amounts of physical activity.
Directions:
Administer 20cc for 15 days. Follow up with an additional tube for 5 days if needed. May administer 10cc prior to competition, training, or hauling.
Cautions:
Safe use in pregnant animals or animals intended for breeding has not been proven. If animal's condition worsens or does not improve, stop product administration and consult your veterinarian.
For animal use only.
Keep out of reach of children and animals. In case of accidental overdose, contact a health professional immediately.
This product should not be given to animals intended for human consumption.
---
We Also Recommend